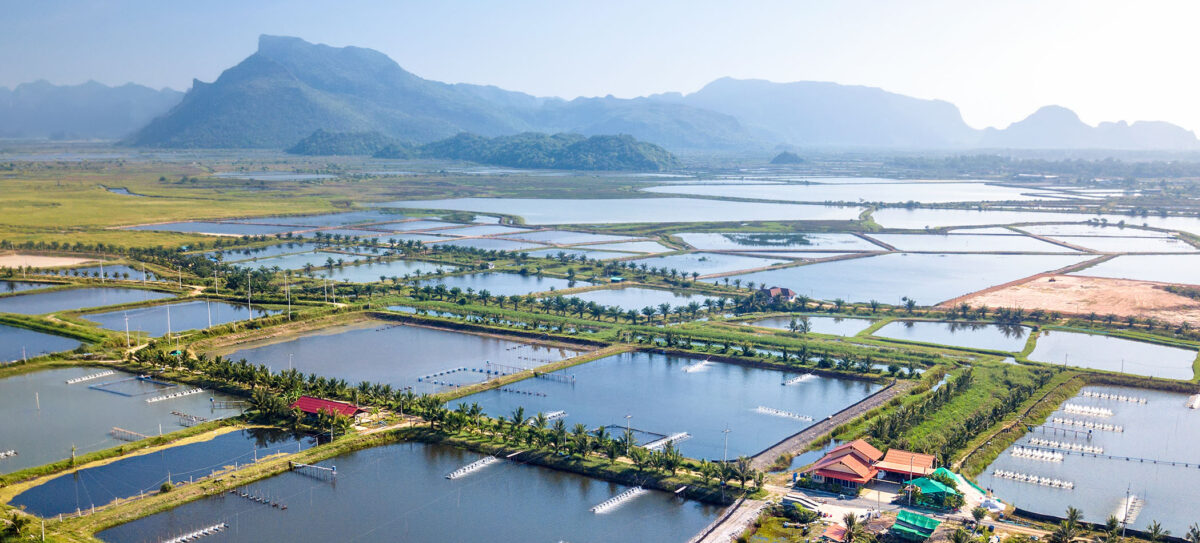 Ten Years of Aquaculture Improvement Projects: Knowledge and Impacts Achieved Globally
This series of three webinars reviewed knowledge and learnings from ten years of developing aquaculture improvement projects (AIPs), so that industry can build on this experience to increase supply chain security and climate change resilience, and support small-holder farmers in becoming part of more resilient supply chains.
The aquaculture sector now produces more than 50 percent of the seafood consumed worldwide, and is expected to grow by up to 40 percent by 2030. To date, farm certification has been the main tool used to drive sustainability improvements on individual farms, but with only 5 percent of farms certified globally, a new approach is needed to support sustainable growth of the sector.  
It is now recognized that to drive meaningful improvements, aquaculture management needs to take into consideration the cumulative impacts that many farms have on local resources. This approach is called a landscape or ecosystem-based approach. With our work on AIPs, SFP has been driving projects to achieve landscape-based improvement for more than a decade.
The webinars featured prominent speakers from around the world who shared their expertise and experience of how AIPs can lead to tangible benefits and outcomes for small-holder farmers and shrimp exporters, while increasing environmental sustainability at scale.
All webinars will be recorded and will be made available after the events. 
Webinar #1: Why Aquaculture Farm Certification is Not Enough
Success stories of aquaculture improvement projects (AIPs) and landscape-based management, to give stakeholders a sense of the impact that can be achieved by these projects. 
Date: Wednesday, August 31, 2022
Speakers:
Webinar #2: How to Get Started with Aquaculture Improvement Projects and Landscape Management
Practical resources and examples of how different supply chain actors can get involved in AIPs and how the projects can benefit the environment while also ensuring supply chain security.
Date: Monday, November 7, 2022
Time: 9:00 am EST | 2:00 pm GMT | 9:00 pm WIB (1 hour) 
Speakers:
Paul Bulcock, Aquaculture Information Manager at SFP, on the AIP framework and how to get started.

Paul develops and maintains aquaculture information in SFP's systems, including FishSource, the AIP Directory, and Seafood Metrics. He also supports the development and implementation of SFP's aquaculture strategy through research and analysis. 

Antonio Santa Marta, aquaculture specialist at Longline Environment, on how to set targets for an aquaculture area.

Antonio's expertise is in supply chain traceability in Indonesia, Thailand, and the Philippines. He has also worked extensively with aquaculture insurance, risk management, and environmental modeling in the Americas, the Middle East, and Africa. 

Trini has more than 10 years of experience in sustainable aquaculture and seafood value chain development. In addition to her work at ASIC, she is also a co-lead of A Greener Blue at The Lexicon. In both roles, she works to leverage support for seafood producers to increase the use of best practices and support sustainable livelihoods. 
Webinar #3: Demystifying AIP Traceability Through Supply Chains: How AIPs Increase Supply Chain Transparency for Consumers and Seafood Buyers
Examples of how AIPs can also improve supply chain transparency, and what tools can be used to track and report on progress achieved.
Date: Thursday, December 1, 2022
Time: 9:00 am EST | 2:00 pm GMT | 9:00 pm WIB (1 hour)  
Speakers:
Cormac O'Sullivan, Senior Fellow, Global Aquaculture Science, Seafood Watch

Roy van Daatselaar, Global Lead Improver Programme, Aquaculture Stewardship Council (ASC)
This series of webinars is sponsored by SFP's Asian Farmed Shrimp Supply Chain Roundtable (SR), in collaboration with SFP, to increase the understanding of how landscape management looks and its importance in elevating aquaculture sustainability. 
The Asian Farmed Shrimp SR is an industry-led coalition to advance environmental sustainability in shrimp farming in Southeast Asia at scale by supporting and driving the adoption of AIPs. SFP provides scientific, technical, and organizational support to the SR.