Improving Fisheries Management
IUU Squid Fishing Resource Library
With rising concerns about IUU fishing and human rights issues affecting global squid sourcing, SFP's Global Squid Supply Chain Roundtable (SR) has adopted a new strategy, focused on addressing these main risks associated with squid fisheries. This revised SR strategy is based on a thorough review of evidence about IUU fishing, published over the last several years. The following is a selection of some of these resources.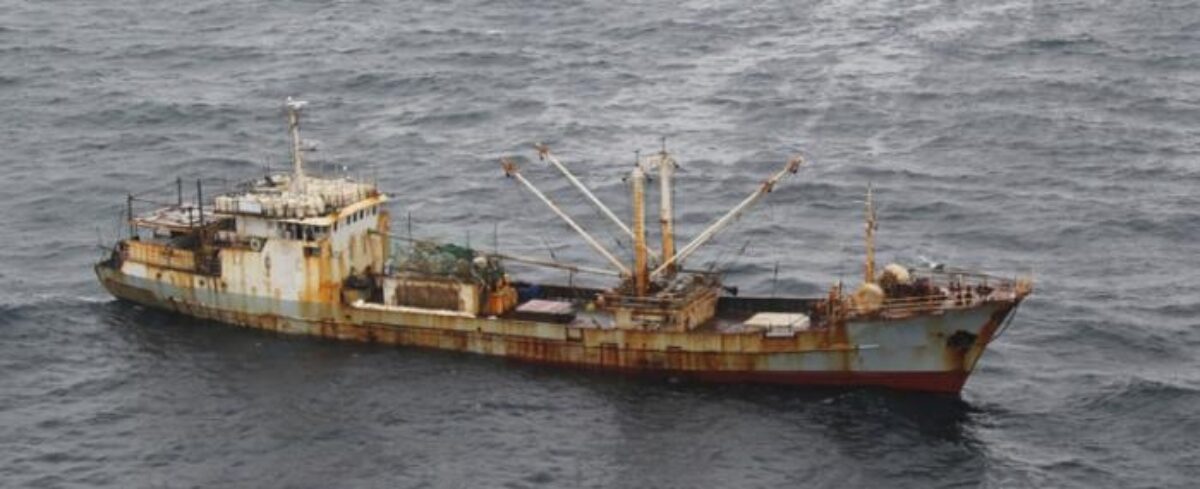 Reports
Businesswire. 2020. Report on the Global Squid Market – Major Importer and Exporter Countries.
C4ADS. 2020. Safe Harbor: Port Prevalence in Cases of Forced Labor in Fishing.
C4ADS. 2022. Who controls the Distant Water Squid Fishing Fleet?
C4ADS. 2022. Net Worth: How the Chinese Government & US Stock Investors are Funding the Illegal Activity of a Major Chinese Fishing Company.  
Environmental Justice Foundation (EJF), 2022. The Ever Widening Net.
FAO. 2020. Transshipment: a closer look. 
Greenpeace. 2018. Misery at sea, Human suffering in Taiwan's distant water fishing fleet.
Greenpeace, in collaboration with Serikat Buruh Migran Indonesia (SBMI). 2021. Forced Labour At Sea: The Case of Indonesian Migrant Fishers.
Greenpeace. 2022. Squids in the Spotlight. 
Global Fishing Watch. 2021. Analysis of the Southeast Pacific Distant Water Squid Fleet. 
Gutiérrez, M., et al. 2020. China's distant-water fishing fleet, scale, impact and governance, ODI.
Johnson, Andrew F.. 2020. Sustainable seafood: China's role in the global ocean, China Dialogue Ocean.
Long Distance Advisory Council (LDAC). 2021. Recommendations for a level playing field for EU and non-EU fish products. 
Macfadyen, G., Hosch, G., Kaysser, N. and Tagziria, L. 2019. The IUU Fishing Index 2019. Poseidon Aquatic Resource Management Limited and the Global Initiative Against Transnational Organized Crime. 
Macfadyen, G. and Hosch, G.. 2021. The IUU Fishing Index 2021, Poseidon Aquatic Resource Management Limited and the Global Initiative Against Transnational Organized Crime. 
Oceana. 2021. Best Practices in Marine Insurance to Fight Illegal, Unreported and Unregulated (IUU) Fishing. 
Oceana. 2021. China's Fisheries Subsidies Propel Distant-Water Fleet.  
Oceana. 2021. Now You See Me, Now You Don't: Vanishing Vessels Along Argentina's Waters. 
Oceana. 2022. Urgent Opportunity for EU, US, and Japan to Jointly Turn the Tide on Illegal Fishing.  
Stimson. 2019. Shining a light: the need for transparency across distant water fishing.
Stop Illegal Fishing, Trygg Mat Tracking, and NFDS. 2017. Squid capture in the Northwest Indian Ocean: unregulated fishing on the high seas.
United States International Trade Commission. 2020. Seafood Obtained via Illegal, Unreported, and Unregulated Fishing: U.S. Imports and Economic Impact on U.S. Commercial Fisheries (usitc.gov).
World Wide Fund (WWF) For Nature and Trygg Mat Tracking (TMT). 2020. Unregulated fishing on the high seas of the Indian Ocean.
Scientific Articles
American University Center for Latin American and Latino Studies (CLALS), 2022. IUU Fishing Crimes in Latin America and the Caribbean. SSRN Electronic Journal, No. 39.
Arkhipkin, A. I., Nigmatullin, C. M., Parkyn, D. C., Winter, A., & Csirke, J. 2022. High seas fisheries: the Achilles' heel of major straddling squid resources. Reviews in Fish Biology and Fisheries, 1–22.
Asche, F., et al. 2022. China's seafood imports—Not for domestic consumption? Science, Vol 375, Issue 6579,  January 27.
Carmine, G., et al. 2020. Who is the high seas fishing industry? One Earth, 3(6), 730–738.
Ospina-Alvarez, A., et al. 2022. A network analysis of global cephalopod trade. Scientific Reports 2022 12:1, 12(1), 1–14.
Park J. et al., 2020.  Illuminating dark fishing fleets in North Korea, Science Advances, DOI: 10.1126/sciadv.abb1197.
Selig, E. R., et al. 2022. Revealing global risks of labor abuse and illegal, unreported, and unregulated fishing. Nature Communications 2022 13:1, 13(1), 1–11. https://doi.org/10.1038/s41467-022-28916-2
Welch, H., et al. 2022a. Hot spots of unseen fishing vessels. Science Advances, 8(44).
Videos and Infographics
Greenpeace, Squids in the Spotlight.
Spyglass, Fishing Vessels' Criminal Records map.